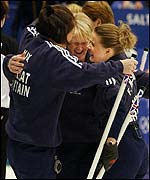 The team celebrate victory over Germany in the play-off
What a team
I'm sure there are many curlers and curling fans old and new who have been inspired, like me, by the efforts of Team Martin at the Salt Lake City 2002 Winter Olympic Games.

It was a fantastic achievement to win the gold medal, but the guts and determination they showed along the way would embarrass many "sportspeople".

Sign the guestbook

The road to glory

The team came to the Games hoping to finish a respectable 5th or 6th, but after the opening stages of the round robin, we were looking good for a place in the semis. We only needed one win out of the last two games to qualify - however, we first lost to the USA in a tight extra end, then Germany broke all our hearts by beating us in the final match. It looked like we were out, the team were absolutely gutted, we even had tears on the ice at one point.


We were given a second chance, though, when Switzerland beat Germany to send us into a play-off with Sweden and our old friends, the Germans. After they had been thrown this lifeline, the team never looked back; after all, they had nothing to lose.


It was a thrilling first play-off against Sweden, but the girls played superbly, especially Debbie Knox, to send us into a shoot-out with Germany. Another fantastic match and we won very confidently. In the semi, we were drawn against Canada, the gold medal favourites. I don't think anybody expected us to win, so the pressure was off the girls, and they had had all that extra time on the ice.


The Canadians didn't play well and the girls took full advantage, beating them 6-5. No-one had thought they could get this far and now they were in an Olympic final. It was an all-European affair, and ironically it was the Swiss, who had beaten Germany to give us that second chance, who were our opponents. It was a very tight game and the Swiss team pushed hard all the way. It was 3-3 after 9 ends, but skip Martin had got her tactics spot on and had the hammer in the final end.


Well, we all know what happened in that end, the Swiss skip threw two great stones leaving Rhona with THAT shot, a dead draw to the centre of the house. She played it perfectly and wrote her team's name into the history books forever. It was a fantastic achievment, but the guts and determination those 5 women displayed to come back from virtually nowhere was the most impressive part of it. That's what sport is all about, and I hope we can all learn a lesson from them.